The fundamental reason that companies implement continuous improvement is to improve their performance, create a competitive advantage, and increase profitability.
The concept of CI, as it is understood today, comes under many guises, most notably Continuous Improvement itself, or Lean Manufacturing; but it also encompasses Operational Excellence, Enterprise Excellence, Six Sigma, Kaizen, Total Quality Management and the Toyota Production System.
The term continuous improvement relates to organisations within which all employees work together, consistently and continually, to identify and remove all forms of waste and non-value adding activities within a business regardless of whether it is a manufacturing or service organisation. Lean or C.I. practitioners commonly agree that there are 7 wastes in continuous improvement. Improvement projects that focus on these 7 elements will save your company resources time and money.
However, before considering these, it is important to consider what is meant by the term waste. Waste can be defined as any activity that consumes resources but creates no value for the customer, i.e. an activity that the customer is not willing to pay for. Within most business processes, the activities that actually create value, as perceived by the customer, make up a very small percentage of the total activities. Eliminating or reducing the number or extent of these wasteful activities represents a significant opportunity for businesses to improve their performance. Elimination of the 7 wastes of continuous improvement will improve quality, reduce costs, increase profits, improve employee engagement, reduce rework, and improve delivery time.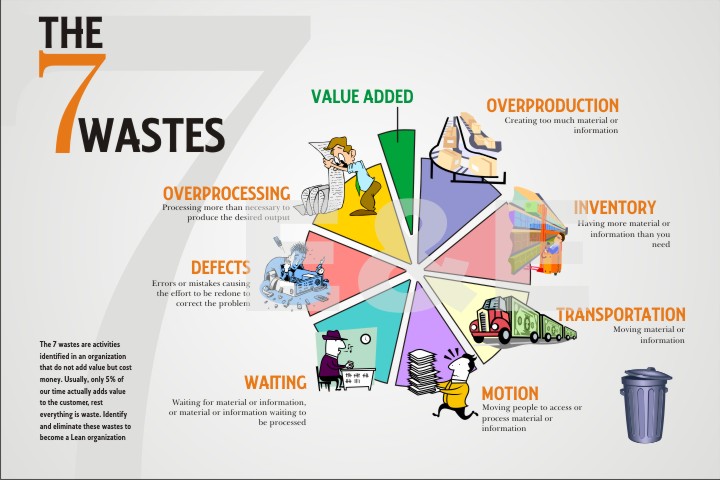 When implementing CI initiatives organisations have at their disposal a wide portfolio of CI tools and systems to identify and remove waste. These include:
Value Stream Mapping
Kaizen Blitz
Standard Work
Total Productive Maintenance (TPM)
Scientific Problem Solving
Cellular Manufacturing
Organisational Benefits
The ability of CI programs to deliver a more effective operating system through lowering costs, and improving performance and quality is a well-established fact.  In their review of CI, Zangwill and Kantor (1998) reference a number of improvement results which bear testimony to the power of CI. These include examples of increases in productivity of up to 100% without any major capital investment, and reductions in manufacturing cycle time by a factor of 20. Because the requirement to control costs is fundamental to the survival of any organisation it is not surprising that these productivity gains have been seen as being the major benefit of implementing CI. In addition, organisations that embrace CI typically require less layers of management as decision making is devolved down the chain of command leading to increased empowerment and ownership.
Employee Benefits
Involvement in CI affords employees the opportunity to acquire new skills and knowledge. Involvement also provides them with an opportunity to showcase their talents and ambitions – an opportunity which they may not have had before. It should also be acknowledged that one of the major benefits for employees of organisations that successfully implement a CI program is security of employment and associated benefits of working for a thriving business.