A week long Kaizen (rapid improvement) event was planned to achieve a >10% increase in labour efficiency in a production cell containing six semi-automated machines, each operated by two production associates. However, since the machines were first introduced a number of years earlier, predicting the actual daily output from the machines had been very difficult. Also because of the inherent variation in the machine and components, attempts to find the root cause of this problem had proven unsuccessful – refer to figure 1.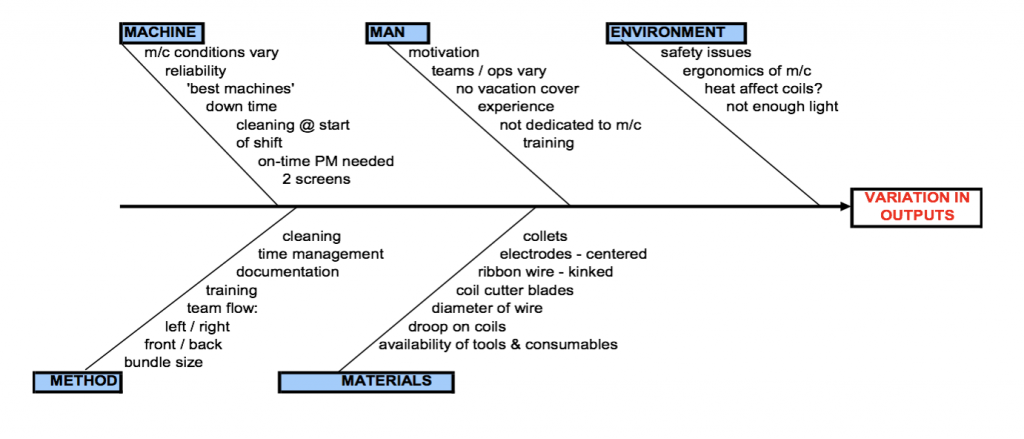 Regularly two associates might achieve a shift output of <5,000 with the shift target of 6,000 only being achieved on an irregular basis and never exceeded. Paradoxically, on some occasions when due to absence, vacation, or training one associate would run the machine alone and achieve an output in excess of 5,000. 
The project objective was to establish and standardise best practice across all distal module machines in order to increase output and optimize manning. At the first project meeting attended by CI, production supervisors and all machine associate, it was decided that two CI engineers would shadow the machine associate to observe the current state of operation.
After observing for only a couple of shifts it became very obvious to the CI engineers that each pair of module associates operated their own system of work. For example on some machines one associate would manage the left hand side of the machine, while the second operated the right hand side. Other teams divided the work between the front and the back – refer to figure 2.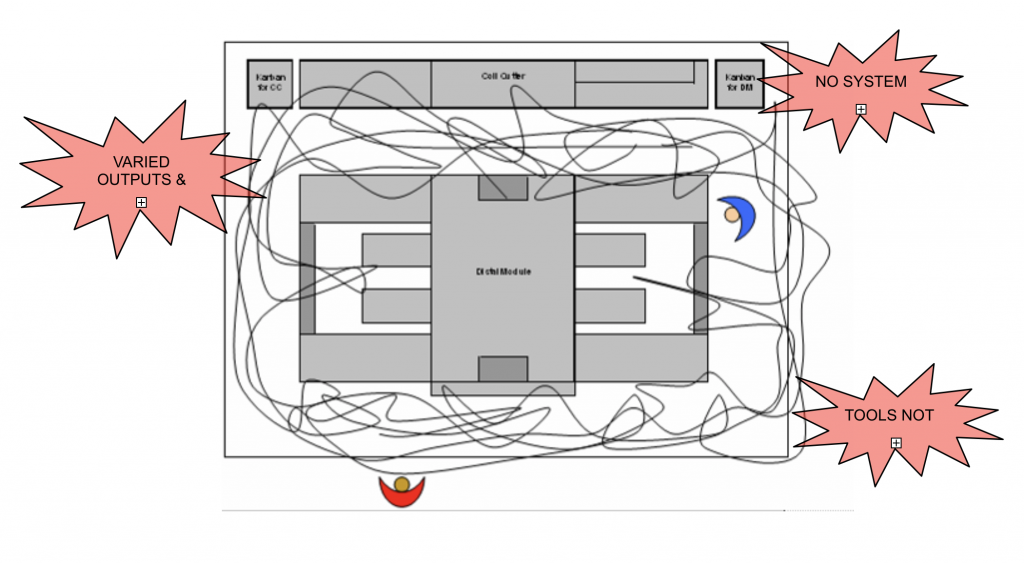 The team then mapped the process and timed each step. To their amazement the times indicated that one associate was capable of running the machine – but only provided he or she followed a set routine – refer to figure 3. These findings were then presented to all the machine associates who were collectively skeptical about these findings but nevertheless agreed to test the new system on a trial basis. Both C.I. engineers went on shift to support production in implementing the proposed system.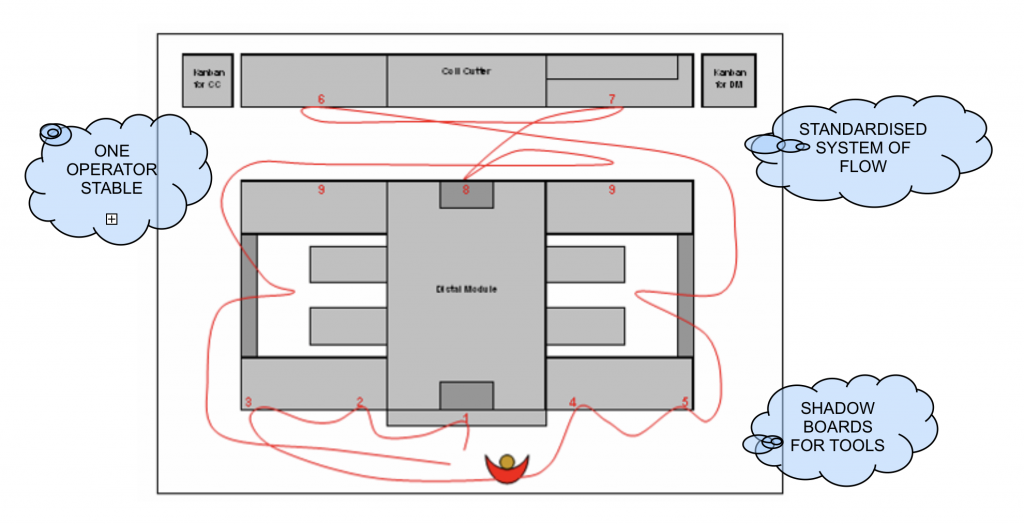 The trial proved an overwhelming success with all concerned in agreement that the new system of work placed less pressure on the one associate running the machine than previously had been the case when two associates were running the machine. Several years on each machine is still being managed by just one associate. However there is one major change: due to the stability of the machines and system of work the machine output target per shift has now been increased by 20%. 
Results Summary:
50% reduction in manning (12 associates redeployed)
>20% increase in machine output.
Scrap & rework averaging <1%
Increased associate job satisfaction
Increased ownership (associates now allocated to specific machines)